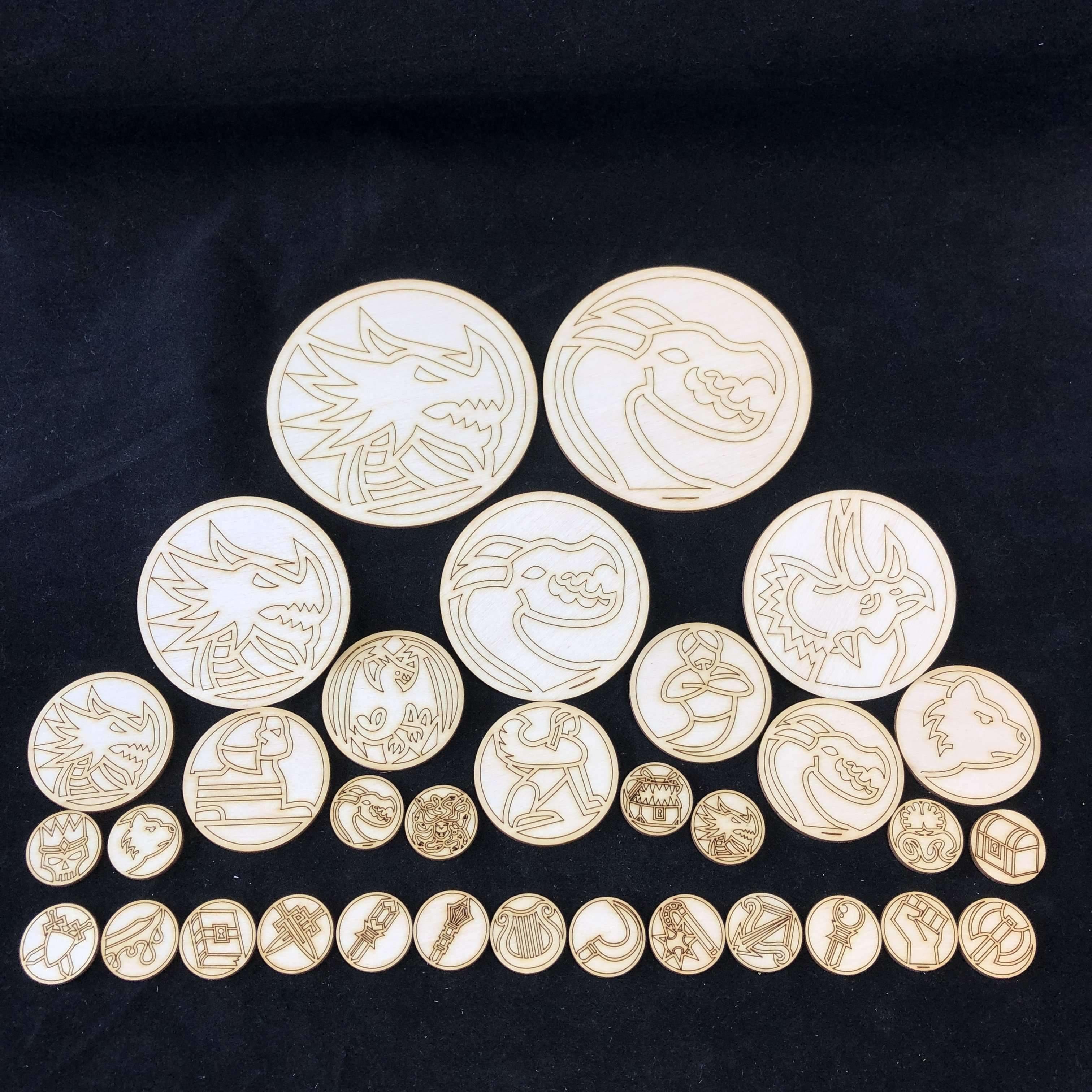 RBCBasics 33 Piece Advanced Edition Gaming Token Set
Red Berry Crafts
RBCBADV-1
Cut on 3mm Plywood, our set is then checked and finished by hand.
Set includes:
21x 1 Inch Tokens:
1x Cleric Token
1x Fighter Token
1x Rogue Token
1x Wizard Token
1x Barbarian Token
1x Warlock
1x Sorcerer Token
1x Ranger Token
1x Druid Token
1x Monk Token
1x Paladin Token
1x Bard Token
1x Bloodhunter Token
1x Mimic
1x Treasure Chest
1x Wyrmling - Style 1
1x Wyrmling - Style 2
1x Mindflayer
1x Medusa
1x Lich
1x Black Bear
7x 2 Inch Tokens:
Wyvern
Djinn
Sphinx - Egypt Style
Sphinx - Greek Style
Brown Bear
Young Dragon - Style 1 and Style 2
3x 3 Inch Tokens:
Triceratops
Adult Dragon - Style 1 and Style 2
2x 4 Inch Tokens
Ancient Dragon Style 1
Ancient Dragon Style 2
Made from: Plywood
Material Thickness (mm): 3
Production Method: Laser Cutter.
Weight (Kg): 0.100

Please Note: from time to time, some of our cuts end up with a tarnished burnt effect across the face of the wood. You can easily decorate over and looks great once it has.

Use these to add more depth to your roleplay games and make combat more visual without the need for expensive miniatures. These can be painted or coloured with a pen to give them even more pop. 

Delivery turnaround time can vary per product, we aim to have all our items dispatched in the stated timeframe but sometimes for reasons out of our control it becomes impossible if this occurs then we will contact you directly and apologise for any inconvenience. We will do our very best to get your items to you in the fastest time possible.